Aircraft Management services by NorthPoint Aviation has one priority. We manage your aircraft, so you can manage your business.

With NorthPoint Aviation, you can finally use and enjoy their aircraft without taking on the complex challenges of aircraft maintenance. Our aircraft management services free you up to enjoy all the advantages and benefits of private aircraft ownership.

Aircraft Management clients receive preferred customer fuel discounts and/or contract fuel pricing at both our home and remote locations.

FulL Suite of Services
We provide the flight crew, coordinate training to meet all FAA requirements, handle all required maintenance, advise you on insurance, and all other matters related to the safe and most cost-efficient operation of your aircraft. Simply call or email to schedule your aircraft and it will be ready to go at the appointed time.
Faa Trained Mechanics
Our FAA Approved Part 145 Repair Station professionals maintain your aircraft to the highest standards while minimizing downtime and cost. At NorthPoint Aviation, our FAA trained mechanics provide maintenance services that simplify your life. You'll save thousands of dollars, not to mention hours of your time!
ABOUT THE BRAINERD AIRPORT
The Brainerd Lakes Regional Airport (BRD) is your ticket to low-cost, reliable air service in the Lakes Area. Business travelers and vacationers alike can experience the convenience of flying directly to and from Brainerd, spending less time driving. And parking is FREE! Avoid the typical three-hour drive you face every time you fly out of the Twin Cities, along with the high parking fees. The ample parking lot at the Brainerd Airport is safe, well-lit and conveniently located just steps outside the terminal doors.

Convenient Flights
Delta Air Lines, operated by SkyWest, flies to the Brainerd Airport twice a day. You are literally one stop away from thousands of locations worldwide. And don't forget the extra 200+ frequent flier miles you get per segment just for beginning and ending your trip at Brainerd.
Full Service Amenities
Brainerd Lakes Regional Airport offers one of the more complete terminals north of the Twin Cities. A great restaurant, free wi-fi and many transportation options, such as rental car agencies, taxi cab services, and the county transit are ready to serve you. A variety of other aviation-related businesses, as well as a full-service fixed base operator, are also located at the Airport.
Full Service
Avionic SOlutions
Our FAA Part 145 certified repair station is your one-stop-shop for all your avionics and instrument needs. Our certified and experienced professionals can perform anything from pitot-static checks to full avionics upgrades on a variety of aircraft ranging from small single engine pistons to corporate jets and helicopters. Below are some of the services we offer.
| | | |
| --- | --- | --- |
| | Avionics Repairs and Installations | TCAS/TAWS Installation |
| | Flight Management Systems | DER/DAR Services |
| | GPS and Audio Panels | In-Flight Entertainment Systems |
| | Entertainment Systems | Cabin Management Systems |
| | Cockpit Voice Recorder | ELT & PLB Systems |
| | Angle of Attack Indicators | Weather Avoidance Systems |
| | Engine Analyzers | Wire Harness Fabrication |
| | | |
| --- | --- | --- |
| | Custom Panel Design and Fabrication | Test Panel Creation |
| | Advanced CAD Design | Laser Engraving |
| | Complementary Consultation | Reverse Engineering |
| | FAA/DER Interface Approval | Installation Team Available |
Transponder Certification
| | | |
| --- | --- | --- |
| | Pilot-Static Test | Compass Calibration |
| | Transponder Tests (Mode S) | Field Repairs and Installations |
| | IFR Certification | Computer Generated Reminders |
| | RVSM Certification | |
Aircraft Wire Harness Fabrication
| | | |
| --- | --- | --- |
| | Pre-fabricated wire harnesses for several manufacturers such as Garmin, L3, Avidyne, and Asper | Discrete wire assemblies ranging from single end terminated to multi-breakout harnesses |
| | Custom Coaxial Cable Assemblies (Rg58, RG142, RG400) | Connector and back-shell replacement |
| | Fiber, Copper and RG Integration | Engineering and Technical Support for all your applications |
| | Component Harness Integration such as GPS, Audio Panels, TCAS and Transpondersswa | |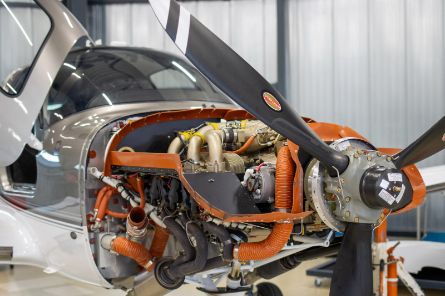 AIRCRAFT SHIPPING & RECOVERY
On-site logistics support
Dismantled on site for transport
Expertly crated in a shipping container
Export documentation
Shipping to your port of destination
Reassembly team available for destination if needed